We have developed a contactless and authentic receipt
From March 23, 2020, FUTAR.HU Logistikai Kft. Will deliver the consignments to the recipients without contact, certified by a unique pink code instead of a signature. To protect shippers, recipients and couriers, we have introduced an innovative solution that provides true contactless delivery and authentic proof of receipt to those involved.
FUTAR.HU Logistikai Kft. Reacted quickly to the critical situation, and on March 12, 2020, we were the first to introduce work from home in suitable jobs. We constantly follow the recommendations of the government, the operational staff and the WHO, we do everything we can to protect the people and workers in our environment. In 2014, we were among the first to introduce live-to-the-second accurate status reporting with the support of our custom-developed software. In the current epidemic, both recipients and couriers have feared using hand-to-hand phones. In the current situation, we have examined a number of options for a fast, authentic and contactless solution for the receipt of items. We are the first in Hungary to introduce this innovative solution, which guarantees the safety of the recipient and the authentic proof of receipt for the customer. Our solution does not require any extra time on the part of the recipient, all you have to do is enter the code received in the SMS. The courier will notify the recipient upon arrival that you will need your mobile phone to pick up. The code is checked by the IT system, the code is not known to the courier either. The solution is completely secure.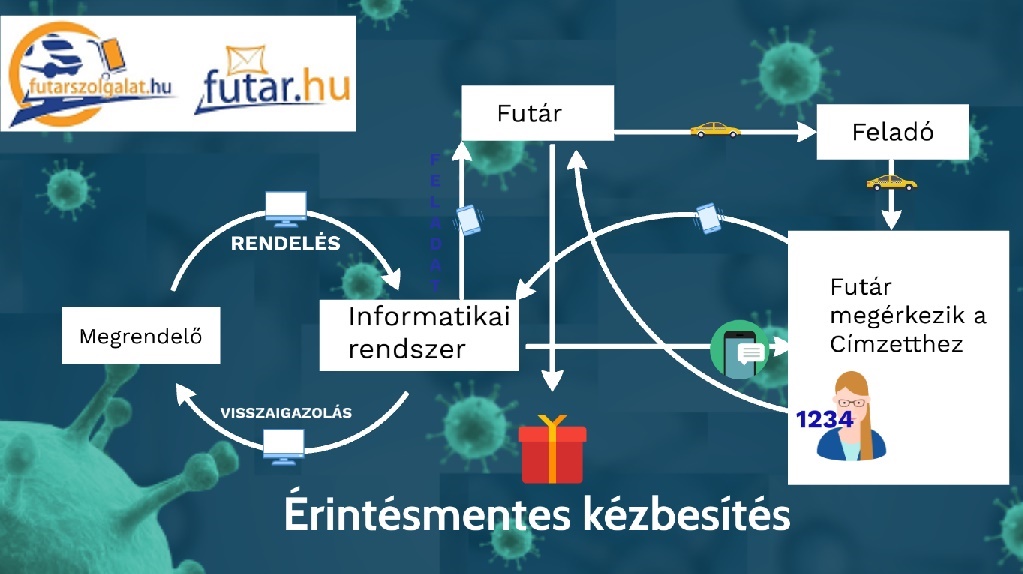 Process steps:
The courier arrives at the recipient.
The courier presses the "I have arrived" button on his phone.
The server sends an SMS to send a four-digit secret code to the recipient's phone.
The courier records the name of the recipient and records the password in the system.
The server checks the authenticity of the code.
If the code is correct, the courier will deliver the shipment without touching it.
FUTAR.HU Logistikai Kft. Is a family-owned logistics company operating for 13 years. We specialize in immediate intra-day delivery and nationwide home delivery of large goods over 40 kg. Our goal is to build an innovative and efficient logistics company that provides high quality and continuously ensures the balanced growth of the organization. Our staff is happy to work for customer satisfaction. We help them with their personal and professional development. During our mission, we take responsibility for the delivery of our clients' shipments. We provide a reliable, effective service with motivated employees and partners who identify with our values.
The contact details of the company and the logo of the services are included in the header, I am happy to answer further questions.
Mihály Takács
Budapest, March 23, 2020